The Collaborative Home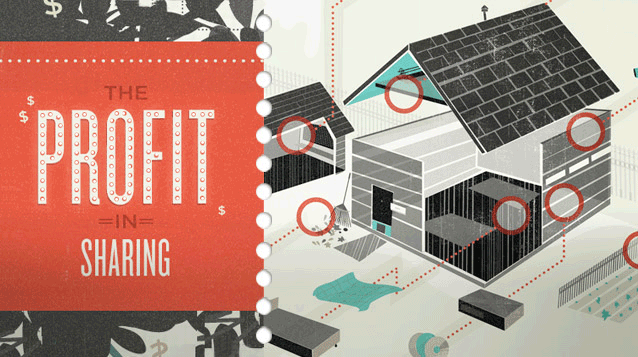 I just finished an ambitious infographic for Collaborative Fund envisioning how the concept of collaborative consumption could replace traditional consumption in the average home. Collaborative consumption is a simple idea: use the connecting-power of the internet to help people to share things that they don't need (or don't want) to buy—resulting in a more efficient use of resources. Collaborative models are frequently discussed in abstract terms—speculation about potential outcomes and distribution abound—but rarely in terms of everyday life. So this graphic shows how it really, actually is working… in a little Mr.-Rogers-neighborhood-home. Check it out here: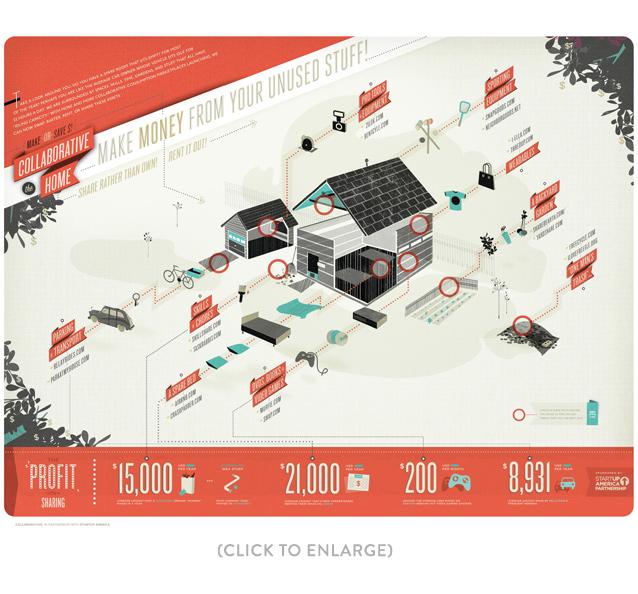 In highlighting how frequently much of the "stuff" lies dormant, the purpose of this graphic is two-fold—
• To show that now we now can share rather than buy (there is a viable alternative to purchasing many of the low-use items in a typical home)
• To identify infrequently-used items with a high potential for profit—when shared on one of these peer-to-peer sites, rather than cluttering up an attic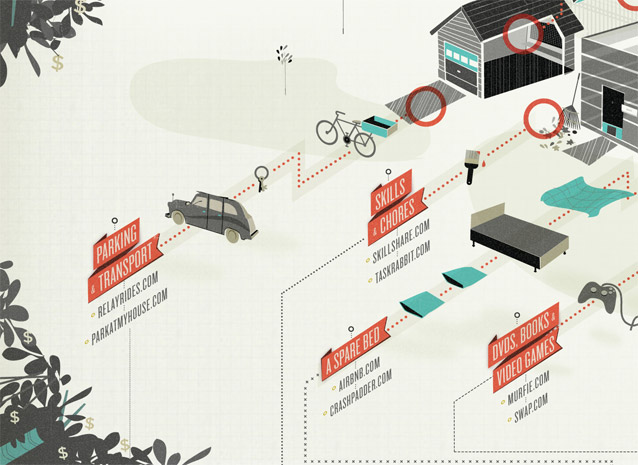 The infographic is a play on the familiar form of the exploded diagram—typically used to diagram complex engineered machinery (like car engines…assembly instructions for children's toys, etc…) Employing this format underscores the point that this is an in-depth, detailed study of modern consumption. The requisite visual complexity of this type of diagram means that it is literally teeming with stuff. Admittedly, the aim of most infographics is to simplify and "break it down" for the viewer. While I wanted to keep it legible and not feel like a punch in the eye, it toes the line and fully embraces the visual cacophony of the exploded diagram form. No other format so elegantly says "this is far too much fucking stuff" quite like the dry-witted exploded diagram.
Engineers do not have a corner on the exploded diagram market (go pick apart your favorite social problems with one today!)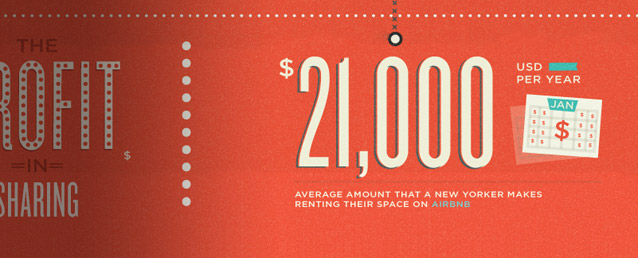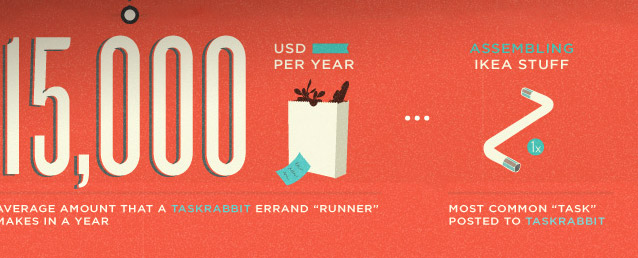 This project was super-fun and enlightening since I had the opportunity to work with some great people (with great ideas)—chiefly, Craig Shapiro and Rachel Botsman. Watch Rachel's TED Talk to learn more about the philosophy behind the shift to collaborative businesses that enable sharing of consumer goods.
Related posts: