Talks! & A Recursive Card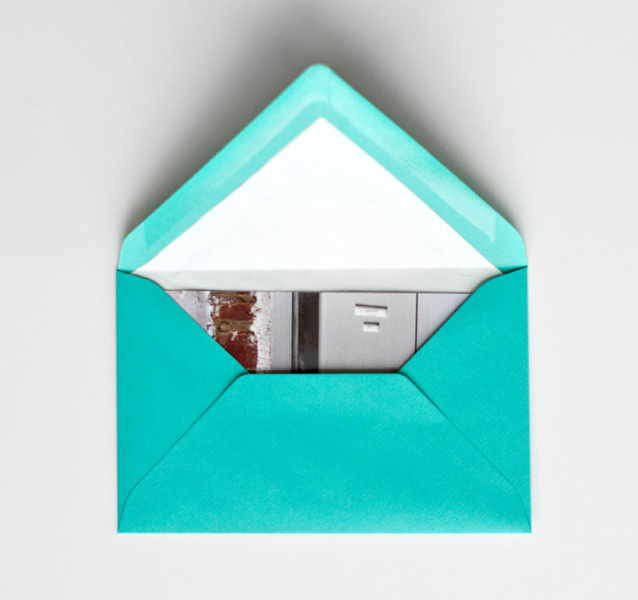 In less than a week, I will bid adieu to Brooklyn to travel to north-central Norway. High up in a mountain town, I will be presenting my work via slideshow+videos for the first time at Grafill Edit (it will be, in fact, the first conference I've ever attended as well.) A subsequent, shorter presentation at TEDx in Phoenix follows closely on the heels of this inaugural adventure. It's safe to say that I am totally stoked and totally terrified! The videos will be shared here when they are ready (provided that I don't bolt from the stage and hide under a table.)
Speaking succinctly about visuals is tedious (for anyone who has read Wittgenstein, you'll see that it takes a brilliant man scores of pages to verbalize what we intuit about experiencing color.) Describing visual perception with an economy of language is impossible. And: curating your own work is no fun at all. So writing these talks has been a struggle. I'm grateful there was a deadline because I would have never done it otherwise. 
For these talks, I'm putting on the blinders and will be focusing on a narrow trend I see in my work—something that just "happens" given the right project and the right circumstances. A few past projects demonstrate this thing pretty well. These projects create the impression that there is possibility hiding in plain view—lurking in the territory just beyond our assumptions. They pull back the curtain that separates the realm of expectations from the realm of the absurd.
So I'm going to discuss these projects as a process (or perhaps more of a chain-reaction than a process.) This is how it seems to work: 1.) Consider the dominant collective assumptions about a thing, 2.) Grow restless and indignant about those confining assumptions, and then 3.) (ideally) Locate a path to challenge them with a radical reinterpretation of that experience*.  (*Modest, handheld experiences work best. Humble materials are the sneakiest and most apt to proffer this sense of disruptive wonder.)  It comes down to an interest in finding "the hidden talents of everyday things." It is difficult to explain, but it always starts out with doing things exactly wrong in an attempt to get something more interesting than just "good."
Among the successful examples of this this line of thinking are the paper record player and the New York Times from the Utopian Future. Both of these projects started from a place of acute dissatisfaction with the state of affairs:  the wedding-invite format felt like a wholly lame venue for me to celebrate the awesomeness of my two friends; and the daily newspaper is depressing (the news always falls short of what I'd want from a participatory democracy.)  So the wedding invitation turned out to be a paper record player — and the newspaper turned into a roadmap to an attainable utopian future. Both play upon and expand the expectations of this media: Can paper work as a speaker?  Can a newspaper reframe reality to inspire action?  I have faith that these small experiences can ignite a sense of inquiry about the things we most often take for granted.
However, in articulating these ideas, I realized that a simpler project predates both of these examples, but shares in this same string of thought.  I had never properly documented it, but the talks made documentation a priority. So I shot a video. It's a card that I made for friends for the holidays in 2009, inspired by the format of Jeff Rutzky's business card.
Here's the story:
The debate in my head began in November. I felt the age-old-holiday-conflict: I wanted to let friends know that I was thinking of them around the holidays, but even more than that I wanted to give them something thoughtful that would transcend the normal going-through-the motions holiday thing.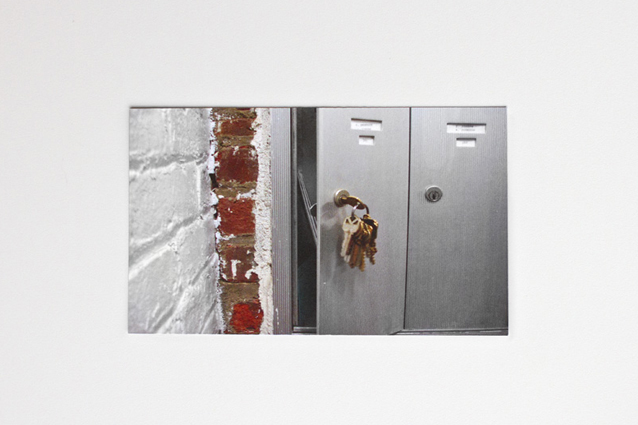 So… I ended up with a very ridiculous card. From the outside, It looks like a normal, flat paper card, so the recipient comes to the experience with the assumption that this is a normal card.  But paper never forgets how it was bent, it has a memory.  I used that material memory to guide the recipients through the experience of the card. When you pick it up, it is immediately apparent that while floppy, it want bends in these specific ways. As people tinker with it, it's activated by their curiosity. They slowly discover that bending the card moves them through a simple story. A story about itself. The card is literally a four-frame documentary about receiving the card.  Take a look:
So it is a recursive experience of a card – that talks about the repetitive ritual of all cards.  It is a card about cards with a card-experience portrayed within a card-experience.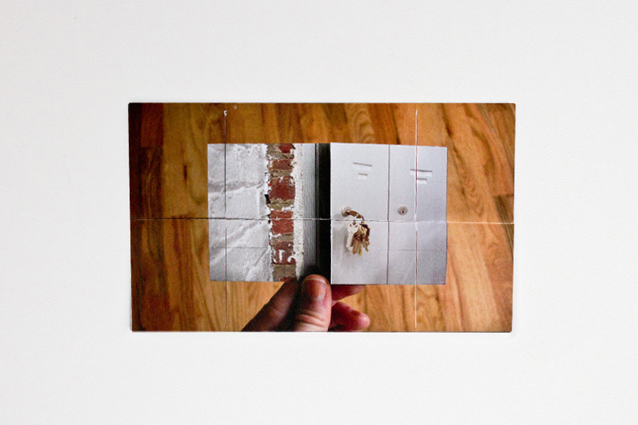 So the cool thing about it (besides being a total mindfuck -yay!) is that it defies this idea that paper is 2-dimensional. It begins life as a regular, 8.5×11 piece of paper. Its a tricky object, but you can see that it really does begin life as something spit out by my inkjet printer: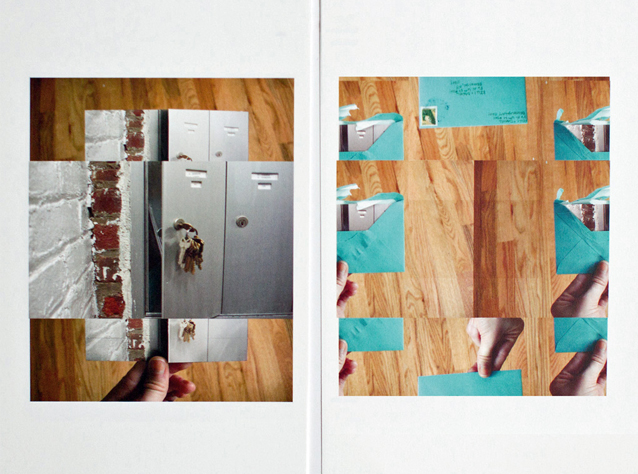 So, I got to challenge the assumptions about "cards" and their parameters, which laid the road for things like the paper record player and the utopian newspaper. This little project ended up being a useful metaphor. Writing these talks has strengthened my resolve to remain in this trajectory and continue making work like this.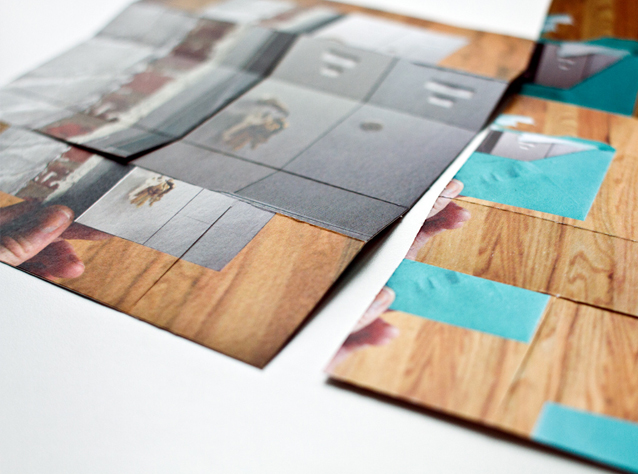 Related posts: