amfAR Map+Slideshows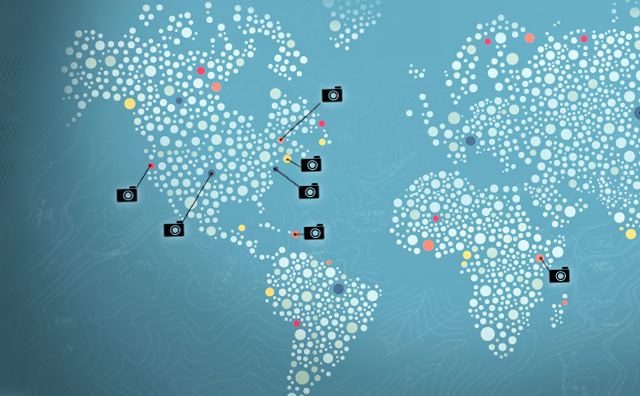 Last week, I finished up an interactive annual report for the AIDS research non-profit, amfAR. You can check it out here. They have an amazing track record for funding successful scientific research and efficacious community outreach work. Their work also happens to frequently be difficult to explain/understand quickly (as is often the case with actual science…) So showcasing the year's accomplishments for the general public is a bit tricky.
Last year, we created a cool infographic world map. It was interactive, colorful, tactile— and was quite helpful in demonstrating the impressive breadth of their grant-making. However, it lacked the all-important clarification about what amfAR's grantees "do." So this year, we combined the map with photo slideshows, so that users can easily catch a glimpse of the faces behind the work (and put an activity with a place.) There is policy work in Washington, DC, research in Montreal, harm reduction work at a syringe exchange in NYC, HIV education in Cambodia, and MSM support in Nairobi.
Photo slideshows on the map: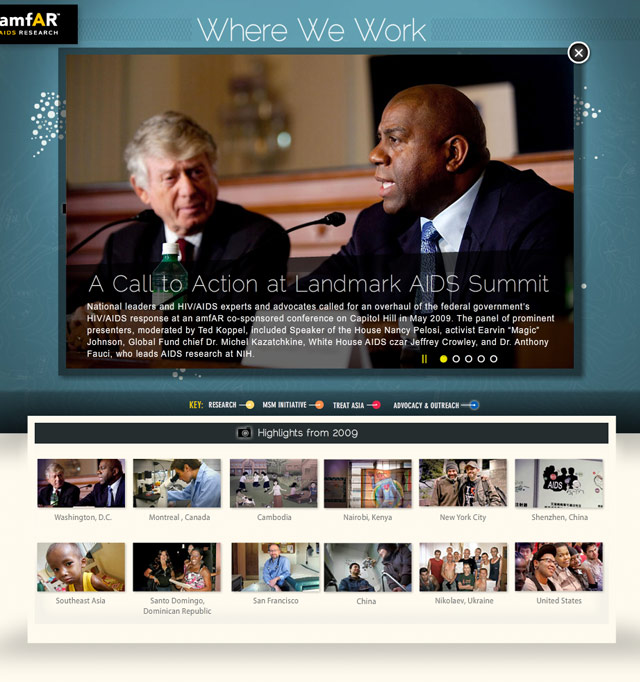 Really amazing work and amazing people—it is humbling to see them in action! Larger slideshows (Flash development by the multi-talented  Aaron Sedivy) appear in expandable divs on the different sections of the site.
In addition to designing/building the site, I was lucky enough to travel to Kenya earlier this year (for vacation with Daniel) and shot a story which appears in the Community section. ISHTAR (an amfAR grantee) is a MSM outreach center in a country where just being gay is extremely dangerous. Aside from the immediate risk of physical violence, this homophobic environment means that it is virtually impossible for MSM to receive critical sex education and health services, placing them at a higher risk for HIV infection. Under the cover of an unmarked abandoned auto parts building in the industrial part of town, ISHTAR serves their community in secrecy, but with an inspiring degree of enthusiasm and humanity. Read more about their work and the work of other grantees on the annual report site.
Images from the ISHTAR Office: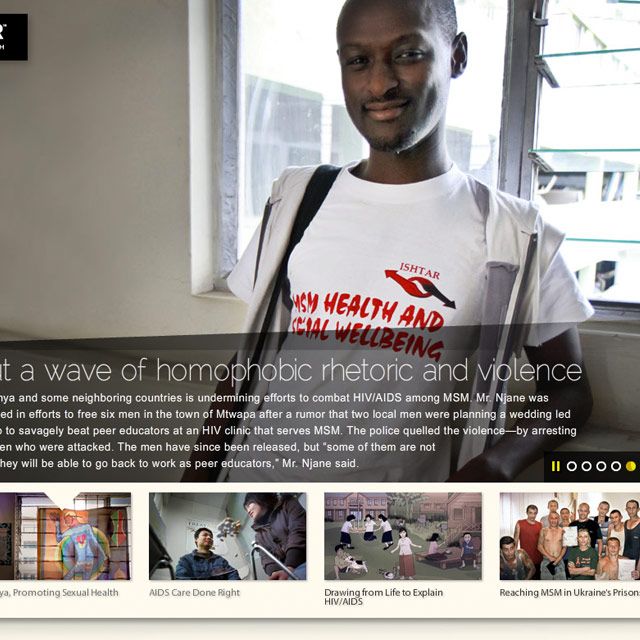 Related posts: