Buy art? Prognosticator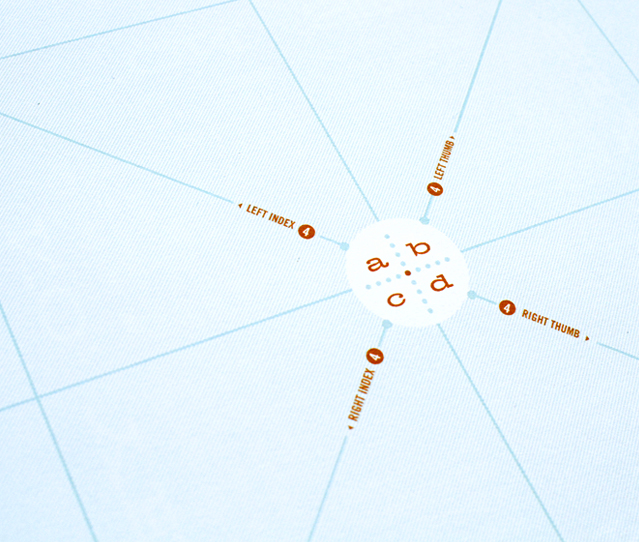 Art fair season has descended upon NYC. In attendance will be collectors, gallerists, artists and art fans galore. Ocular stimulation—the good and the bad—will ensue. This annual ritual is great because it conveniently brings together a ton of new art (excitement!), but it also ends up being very trying at the same time. Walking through the fairs, you can really feel the money in everything: from the hierarchy implicit in the way art is hung, to the rich-people-will-totally-buy-this "themes," to the 12-dollar sandwich you just ate. It can be inspiring one moment and spiritually degrading the next.
Given the mixed-bag nature of the beast, I'd say this is the perfect opportunity to interject light social critique (in the form of a paper fortune teller, of course!)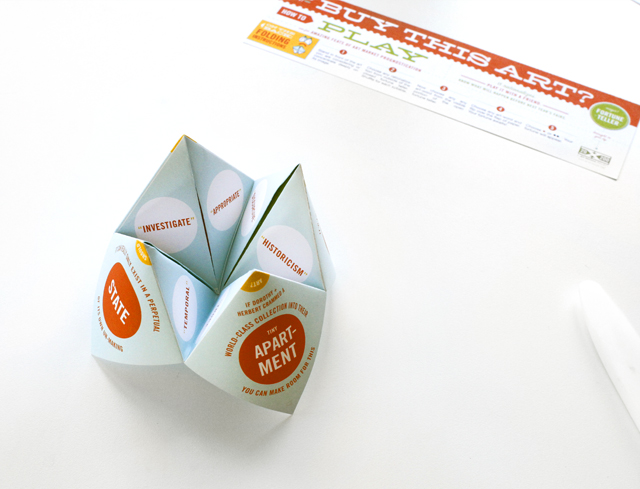 I made this paper-gizmo for Jen Bekman's 20×200 to distribute in their "Art Fair Survival" tote bags. Jen had the initial inspiration for a fortune teller and the entire office brainstormed on a theme, ultimately arriving at this question: "Should I buy this art?" I worked that basic idea into a handy-dandy art market prognosticator, which will aid the user in making very expensive decisions about art… responsibly, of course.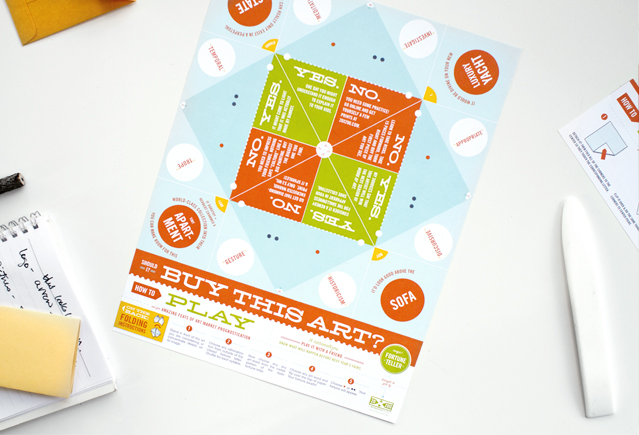 Paper fortune tellers work this way: in a state of deep concentration, you pose a question (in this case: "should I buy this art?"). Then, working back and forth (with a friend ideally, although you can play solo too) you pick a word and open and close the fortune teller for each syllable. You are posed choices, and depending on your selection, you open and close the fortune teller again for each syllable in your selection. There are several phases of this process, then you turn open the paper flap and reveal your fortune.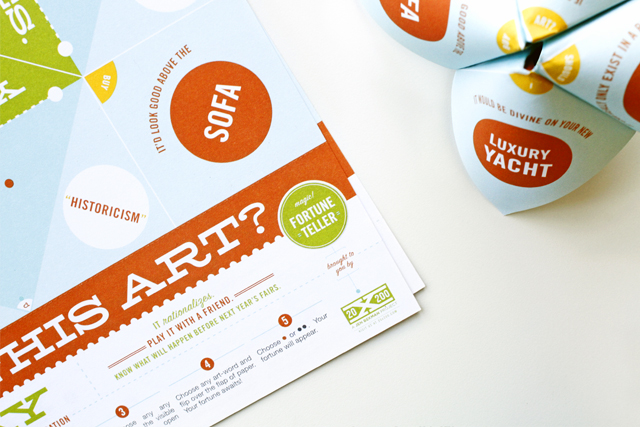 In this version of the game, the player first chooses an initial art-buying rationalization (i.e. "it would look great above the sofa") shuffling for each of syllables in the main word ("SOF-AH"). Then, on this inside, they must choose one of four art-words ("Trope" / "Discursive" / "Mediation" / etc. ) and shuffle again.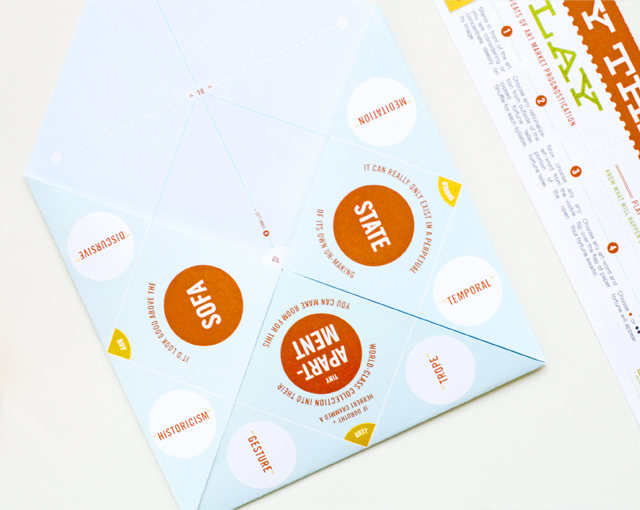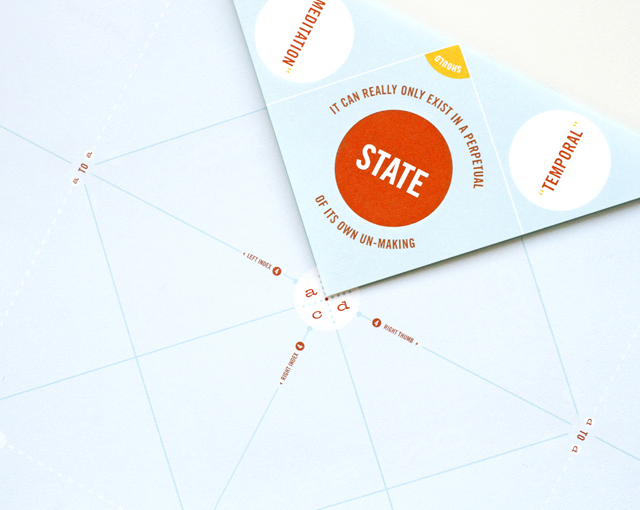 At the end of the game, a recommendation magically presents itself—advising the player to either buy the art or move onto greener pastures. Here are my favorites of the possible fortunes (answering the question, "Should I buy this art?"):
• YES. One day you might understand it enough to explain it to your kids.
• YES.  It might come to light that it was actually made by Banksy.
• NO.  You need to impress your friends.  Nothing says "culture" like a big painting.  Buy the biggest one you find.
(All sound collecting advice, for sure.)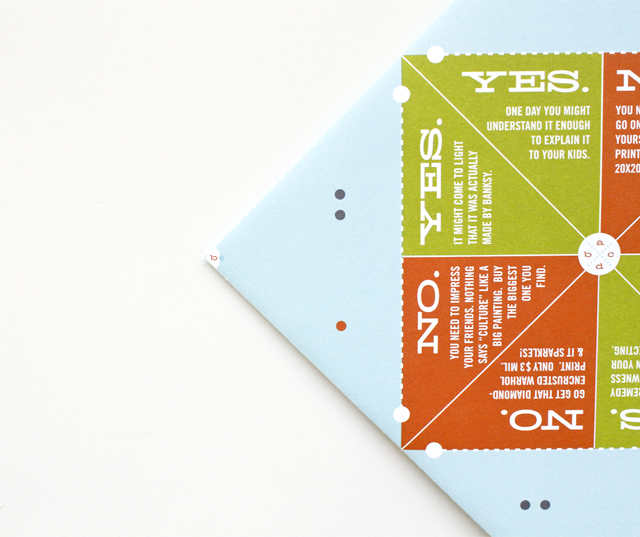 These fortune tellers come flat-packed in the 20×200 totes, so they rely on some careful folding on behalf of the user. It's more involved than a paper airplane, so I extensively diagrammed the process to help them reach the correct shape for the little contraption. I can't wait to see if and how people use them at the fair. If any of you go to the fair and spy someone using one (especially if they end up buying the art), please let me know!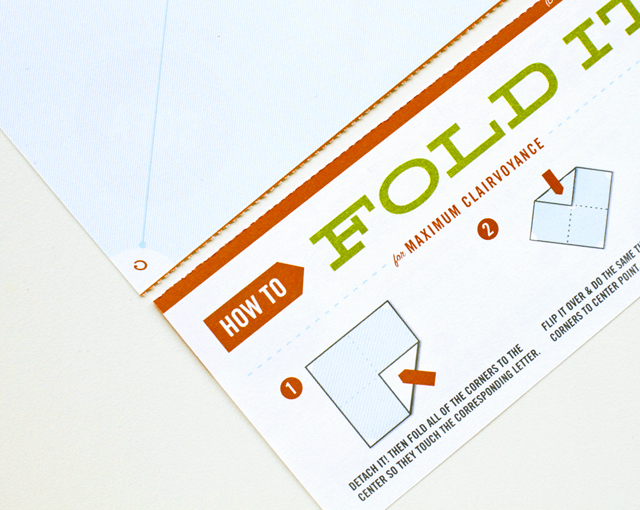 Download and print your own art-buying companion.
Related posts: